It's always nice to receive a present, and on Casualty tonight Jade and Dylan are given key-rings featuring embedded maggots by a grateful Campbell, who we last saw getting maggot therapy for a pressure ulcer.  The Love a Maggot team approve of maggot related key-rings – though we think our maggot key-ring may edge out Campbell's in the cuddly stakes.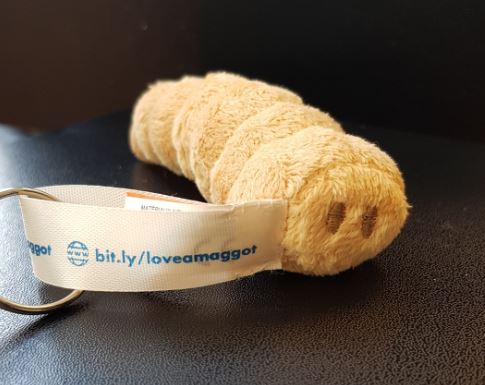 While it was a lovely thought by Campbell to thank his medical team for using maggots to cure his ulcer,  the thought that is on most clinicians and researchers minds who are working on wound care is how to combat antibiotic resistance.  As Yamni mentions in the video below, bacteria evolve quickly and can become resistant to antibiotics that modern medicine depends on.  The search is on for new classes of antibiotics to combat drug resistant infection but this will take time.  On the other hand, medicinal maggots are adaptive and secrete antibacterial and antifungal molecules that can combat new strains of bacteria and fungus as they encounter them.
Tom Hewes and Yamni discuss the bacteria slaying factories that are medicinal maggots in the below video!  (Thanks to the BBC for filming this video and hat-tip to the Borg!)
Please accept YouTube cookies to play this video. By accepting you will be accessing content from YouTube, a service provided by an external third party.
If you accept this notice, your choice will be saved and the page will refresh.